McDonnell: Labour split stories are 'myths and rubbish'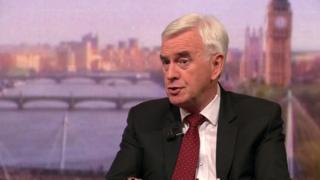 Stories about splits in the Labour party are "myths and rubbish", shadow chancellor John McDonnell told the BBC.
The Labour MP denied he had called for the sacking of two advisors to Labour leader Jeremy Corbyn – as reported in the Sunday Times newspaper.
Asked about Labour changing its stance on Brexit, he said the party needed to "get on with it", adding he would vote Remain in a second referendum.
He said Jeremy Corbyn wanted to "build consensus and then go for it".
Labour had previously promised a vote on Brexit in certain circumstances, specifically if it could not get its own deal with the EU passed by MPs or if there was no general election.
'Wiser'
Following the party's poor performance in the European elections in May, Mr Corbyn appeared to go further, suggesting there "had to be a public vote" on any deal agreed with Brussels.
He has recently come under pressure from his own MPs to confirm that the party would call for another referendum, and would campaign to remain in the EU.
Speaking on the Andrew Marr Show, Mr McDonnell confirmed that he, personally, would campaign to Remain if there was a second referendum.
He said he wanted to "get on with it", but added that Mr Corbyn was "much wiser" and wanted to "build consensus and then go for it".
"That's what he's doing at the moment," he added.
"Jeremy and I go back 40 years, we're the closest of friends. We've minded each other's back throughout that period. Yes, we'll disagree on things, and then we'll come to an agreement."
'Futile'
Mr McDonnell was also asked about reports in the Sunday Times that up to half a dozen Labour staff have ignored non-disclosure agreements (NDA) to speak to BBC journalists working on a Panorama programme about Labour and anti-Semitism.
According to the Times, Labour, through the law firm Carter Ruck, has warned there could be legal action against those staff members.
Mr McDonnell said the Labour Party was "reminding them of their confidentiality agreement".
He argued this was important in cases where employees "are dealing with individual cases, individual information and individual members".
However, he added the party would "always protect anyone subject to harassment".
A number of Labour MPs criticised the reported action, including deputy leader Tom Watson who said "using expensive media lawyers in an attempt to silence staff members is as futile as it is stupid".
Labour MP Wes Streeting tweeted "Labour opposes NDAs, yet seems to impose them. I'm protected by parliamentary privilege. I'll whistleblow in the House of Commons for anyone who needs me to do so. Sunlight is the best disinfectant. No more excuses or hiding places. You should promise the same Jeremy Corbyn."
Shadow international trade secretary Barry Gardiner has attacked the forthcoming Panorama programme, which will be aired next week, as neither balanced or impartial.
In response the BBC said: "The Labour Party is criticising a programme they have not seen.
"We are confident the programme will adhere to the BBC's editorial guidelines. In line with those, the Labour Party has been given the opportunity to respond to the allegations."