Row as Labour's Debbie Abrahams leaves front bench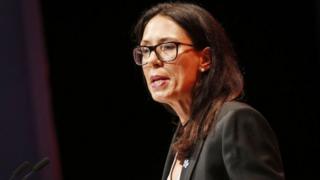 A row has erupted at the top of the Labour party as a shadow cabinet minister said she had been removed from her post against her will.
On Sunday, Labour said Debbie Abrahams had stepped down as spokeswoman on work and pensions while an "employment issue" is investigated.
But Mrs Abrahams claims that she is the victim of a "bullying culture of the worst kind".
She rejected the allegations against her "in the strongest possible terms".
"I have had no details about the complaint, who it is from, the process or timescales. I have not agreed to stand aside," she said in a statement.
"I will fight this spurious claim and do not rule out taking legal action."
'Aggressive' treatment
Her comments followed a statement issued by the party which said her deputy Margaret Greenwood would replace her while an inquiry was carried out.
The details of the allegations against her are not known although it is understood she believes she is being accused of bullying – a claim she denies.
Mrs Abrahams said she had been victim to "aggressive, intimidating and wholly unprofessional" treatment by "certain individuals in the leader's office" over the last 10 months.
"My treatment in the last week has shown a bullying culture of the worst kind," she said. "As such I am making a formal complaint to both the Labour party and parliamentary authorities."
Mrs Abrahams became the MP for Oldham East and Saddleworth in 2010. She was promoted to the shadow cabinet after last year's general election.